Your monthly box of sunshine
When you sign up for a Sunshine box you'll receive a box full of the most delicious and beautiful products every month. 
We hand pick the best seasonal staples, award winning favourites, new products to try and delicious treats.  All are made in Queensland by small batch craft makers. 
Let's make your Sunshine box. 
First choose the size of box you'd like.....  
We want you to love your Sunshine box and get just what you need every month.  So after you've picked your box, we'll ask you what you'd like in it. You can choose a mix of beautiful foods, body and home products. Or, if you'd prefer all foods.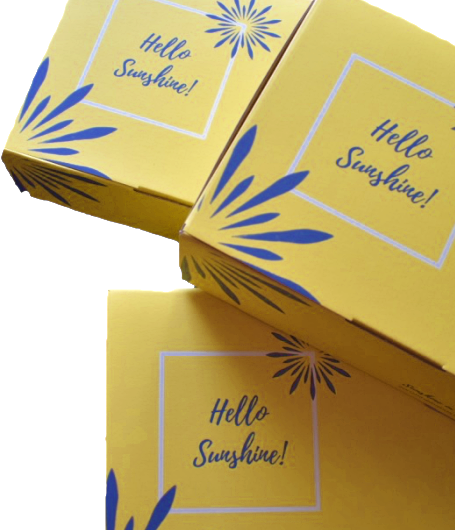 Pick your Sunshine box.....
full sun
$ 149.00
Wow, what can we say. This box captures all the goodness and perfection from a sunny Queensland day. It's a true treat for all your senses, containing 10-11 hand crafted and utterly delicious foods and beautiful treats for your body & home. Packed with all your daily essentials for the month. You can choose to fill your box with all food or a mix of food, body & home items. Look below to see what can go in your box.
morning light
$ 99.00
You know that fabulous half light in morning that tempts you out of bed with promise of the new day ahead? This half sized box is ideal for those that want to be gradually introduced to new favourites. It contains 5-6 hand crafted and delicious foods, natural and beautiful body and homewares. You can choose to fill your box with all food or a mix of food, body & home products. Look below to see what can go in your box.
No nasty chemicals
We only include natural products that are better for you and our environment. 
Easy. 
When you subscribe you can sit back and let us handpick and deliver to you each month. You don't need to do a thing. 
Foods that taste better. 
Enjoy flavour-packed everyday favourites & discover new tastes. 
Free delivery.  
Your monthly Sunshine box is dispatched on the 16th of each month. 
What's in your box each month is a surprise.
Just like opening a present you've been waiting for, discovering what's inside is part of the joy.
Every box is packed with delicious, natural and award winning products made right here in Queensland. Most are made from produce grown here too! Each month your box has a seasonal theme and a unique selection of amazing products, including snacks, chocolate, tea & coffee, jams & chutneys, granola, honey and soaps & creams. 
Common questions... and answers! 
When will my box be delivered?
Expect your Sunshine box to arrive in the middle of each month. We send out your box on the 16th - so it should be with you in 1-2 days. We'll send you a tracking link when it's dispatched so you can see when it's due to arrive.
Delivery is free when you subscribe to a Sunshine Box.
If you order a limited edition box, delivery is charged at a flat rate of $12.90 AU wide.
How many items are in each box?
The full sun boxes typically contain 10-11 items, while the morning light boxes have 5-6.
We want you to love every box. So what's in your box will vary from month to month - depending on the beautiful seasonal products we've selected for you. That means the number of items might fluctuate a little - but will always provide great value.
Can I choose what goes into my box?
You can choose between all food or a mix of food. home and body care products. And let us know if you are a tea/coffee drinker or a honey/jam/nut butter lover (so we know what products not to include).
At the moment we can't offer the ability to pick individual items to go into your box (sorry!) but we'd love to know if this is a feature you'd like in future.
How long do I have to subscribe for?
We want you to love your Sunshine box, so there's no fixed period. Your subscription automatically renews each month and you can cancel or pause at any time.
How does the flexible subscription plan work?
A flexible subscription makes it easy for you to enjoy the things you love with no hassle. When you sign up for a full sun or morning light flexible subscription your order automatically renews each month. We charge your payment card on the 15th of every month, and send your box on the 16th. You can pause, skip or cancel at any time by logging into your Sunshine account.
Can I pause or skip a month?
Yes of course, if you are on holiday or just need to skip a month, you can log in and cancel your box for that month. Easy.
Can I send subscription boxes as a gift?
Yes, that's a beautiful idea. It's a gift that keeps giving. During checkout you can tell us it's a gift and the address you'd like it sent to. You can also choose how many months you'd like us to send the monthly Sunshine box to your lucky recipient.
If you just want to send a one-off gift then please choose from our limited edition boxes
Can you include my favourite....
If you'd love to see a particular product (that's craft made in Qld) added to your Sunshine box, then please let us know and we will see what we can do!
Can I just order one box to try?
please use the form below to get in touch and we'll get right back to you! 
Pop your email address below and we'll send news & offers direct to your inbox... 
We value your privacy so won't share your email address or spam you. We'll only send you updates on things we think you'll love.