Bring a little sunshine to their day
Whether it's congratulations, thanks or I'm thinking about you -  there's no better way to mark the occasion than with a box full of lovingly made foods, body care and homewares. 
Christmas 2020, celebrate with the perfect pairing
2020's  been a difficult year. But you know what they say.  If life gives you lemons, make lemonade! So we are celebrating with the perfect pairs. 
This year send a beautiful limited edition artisan gift that's made with loads of love in Queensland. You'll be supporting small local businesses and donating a Christmas meal to Queenslanders in need.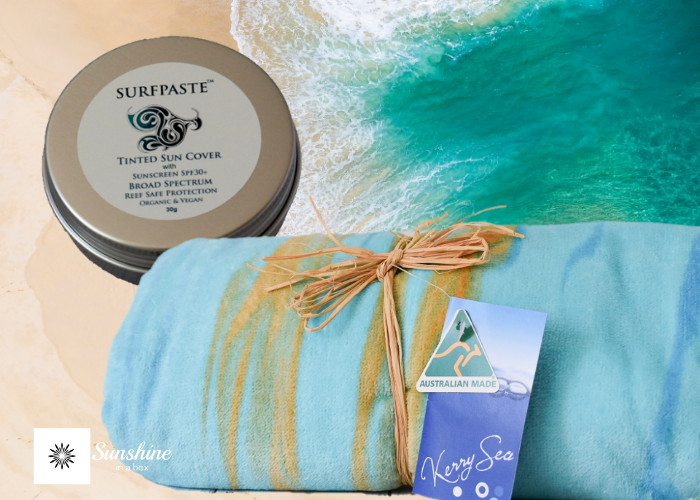 This box contains a beautiful Great Barrier Reef beach towel and reef friendly sunscreen. $75 
1 xAustralian made beachtowel featuring a beautiful watercolour by Whitsunday's Kerry Sea Designs.
1x Keep protected from the sun with reef friendly moisturiser with SPF 15+ sunscreen by Noosa Organic Skin Care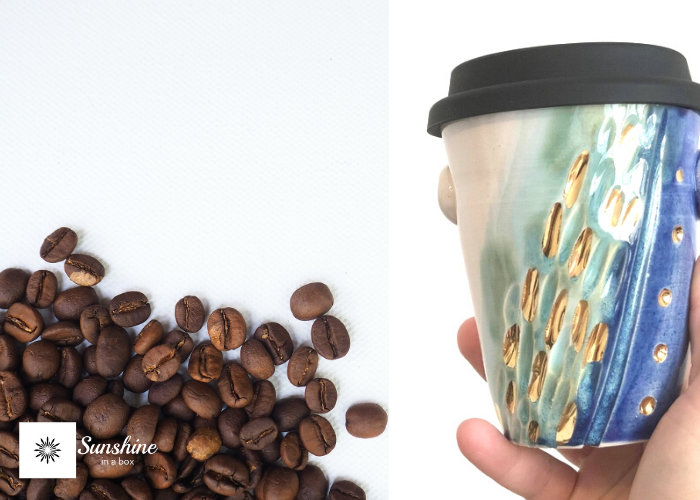 Take a break with this handmade ceramic cup and Queensland grown coffee. $75
1x Queensland grown and roasted coffee beans from Skybury's Mareeba Plantation
1x exquisite handmade travel cup by Brisbane's Carys Martin Ceramics.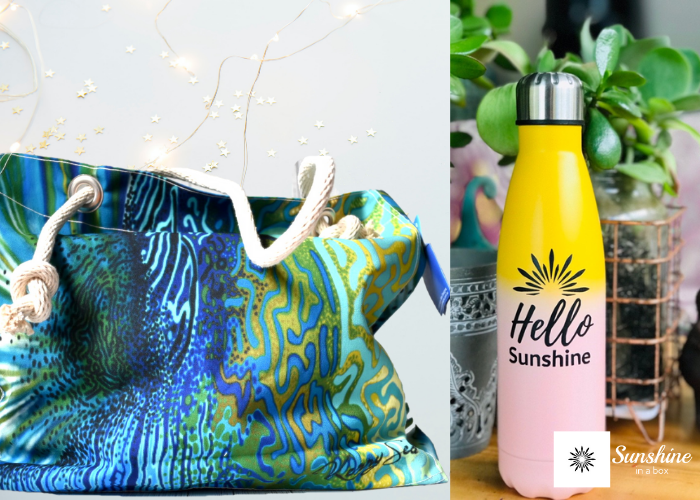 Step out in style with a stunning reef inspired tote bag and insulated water bottle. $75
1x Turn heads with a stunning reef inspired tote bag featuring by a beautiful watercolour by Whitsunday's Kerry Sea Designs. 
1x insulated Sunrise design water bottle from Sunshine Coast's Sunday Threads.
Send a little sunshine to your friends, family or even yourself!  From delicious foods to luxury body and homewares each box is full of things they'll love.    But be quick. We only make a few each month. So grab a box today:
Looking for a special gift for your customers or guests? From unique corporate gifts to wedding guest thank-you's - we'd love to help you create something special that celebrates the best of the Sunshine State.  Tell us what you need...
Or send a gift that keeps on giving... 
Give them a monthly Sunshine box subscription for 3, 6 or 12 months and they'll receive a beautiful present every month.
Flat rate delivery for one off boxes Australia wide is just $12.90
The environment is important to us - so our boxes & packaging are all reusable/recyclable. No fancy cellophane wrapped hampers here.
We only do limited edition or custom-made boxes because we want to give you the best quality seasonal products you will love - not stale, cheap and odd things that have been on a shelf for years.
Your box may have different (but equally fabulous) equivalent items to those shown just depending on what's available.