One month to go until Christmas!  But don't despair, over the next four weeks we'll share some ideas that make this festive season a joyful and relaxing time for you and those you love.
This week it's time for some festive planning. Thinking about it now avoids the last minute stresses that take away the joy of the festive season.   
1.  Start by thinking about what a joyful Christmas looks like for you.  Plan the things that make you happy and resolve to avoid the things that make you stressed and unhappy.   That includes who you spend time with and what events you go to. Be tough and realistic.  Keep things simple. 
2.  Make a list of who you need presents for, set a budget and order your gifts online. Not only is it easier but it takes care of delivery too.  Stuck for ideas? Think about their favourite foods or something that they'd find relaxing.  Have a look at the 12 Christmas Sunshine boxes for some ideas.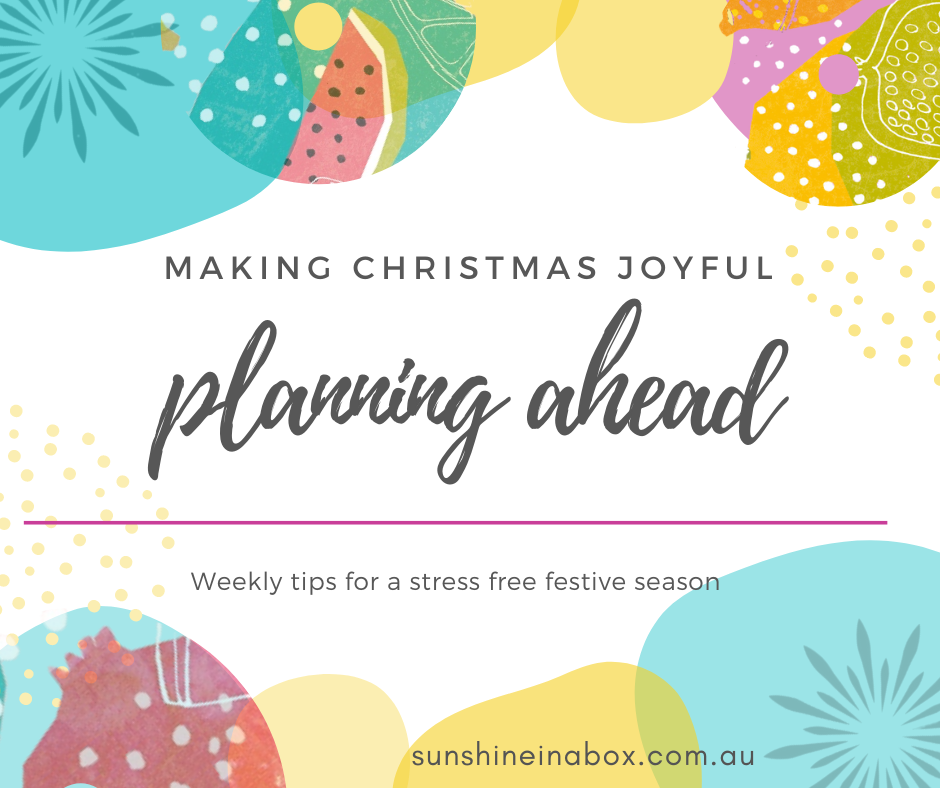 3. Before schedules get too busy, plan a leisurely lunch with your favourite person.  Keep it simple.  Share the contents of your November Sunshine box, add some cheese and a bottle of wine and you've got everything you need. 
4.  Think about how you might be able to share some Christmas cheer with those in need this year.  Whether it's supporting drought or bush fire victims or visiting an elderly neighbour,  share a little love.    Every Sunshine box sold provides a healthy meal for Queenslanders in need - and many of the products in each box also donate to charities.