The delicious tastes of Granite belt fruits have inspired the Jamworks team for over 30 years.  In that time they've come a long way from  selling homemade preserves on a small market stall in the late 1980's to today's purpose built facility.  
The first Jamworks shop opened in 2001 in the old school in Glen Aplin and in 2016 Steph and her business partner Christine opened a new purpose built production facility and cafe where they can produce 120 different preserves and condiments.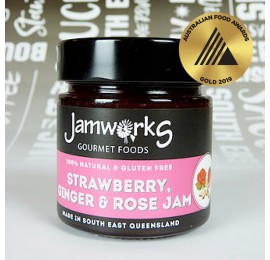 With a stack of awards, for their old school favourites and delicious new combinations, Jamworks preserves are  all are vegan friendly, gluten free and preservative free.  The team have high standards - and their process is accredited with Hazard Analysis and Critical Control Points (HACCP) and Food Safety Standards Australia ( FSANZ).