What's in your box each month is a surprise.  Just like opening a present you've been waiting for, discovering what's inside is part of the joy.  But we get it, you are curious.... so take a peek at some of the beautiful products we've hand picked for your October Sunshine box. 
The theme was inspired by Jamwork's gold award winning Strawberry, Ginger and Rose Jam.  Who can resist that decadent Sunday afternoon tea?  Paired up with a fresh cup of Queensland tea (or coffee if you prefer), feather light strawberry and ginger cookies, macadamia praline dark chocolate, fruit salad and almond & coconut granola clusters.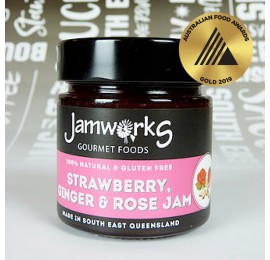 And since you can never have enough pampering we've added some beautiful all natural bodycare to soak, scrub and moisturise your body.  Get ready for summer with these divine products. 
Find out more 
https://www.sunshineinabox.com.au/october-sunshine-box
And remember, October boxes are dispatched on the 16th of October - so get in quickly to order yours today.
All of the products in your Sunshine box are crafted with skill and love.  Every box is packed with award winning products made right here in Queensland. Most are made from produce grown here too!